"SO MUCH DEPENDS ON THE PERSONNEL, AND WE HAVE A GOOD TEAM"
16.4.2021
It is now four decades since Günter Pilarsky entered the field of stainless steel scrap recycling by founding CRONIMET. Today, the corporate group is the global market leader in its industry. A team of CRONIMET staff magazine Cronicle spoke to the founder about the beginnings of the company, its greatest challenges and what he does with his personal time after his active work in the boardroom.
What is it like for you to come in to work in the morning 40 years after founding your company, how does it make you feel?
How I feel is not just because it has been 40 years - after such a long time, you cannot help but be proud, and it is always nice to be able to contribute a little at my age. I stepped down from management a long time ago. It is good to see that the company is doing well and has even increased its market share, and is now number one in the world in stainless steel recycling.
You decided early on to set up your own business. Where did this aspiration come from?
I don't know how others feel about it, but I knew from a young age that I didn't want to be an employee all my life, and that I wanted to take a risk and start my own business at some point.
Back in the sixties, you already had a company that traded in ferroalloys ...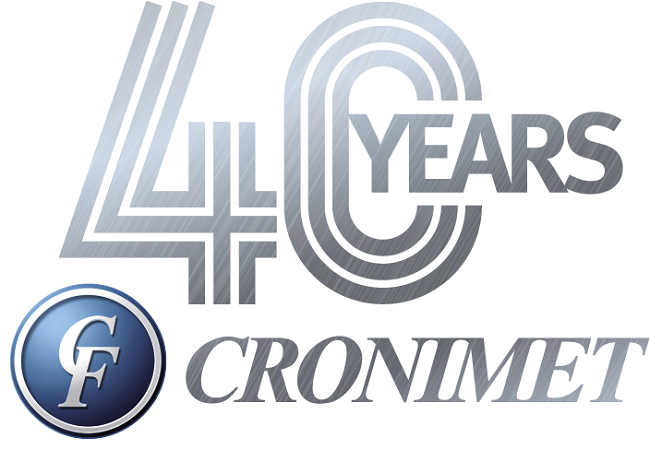 To begin with I was mainly running a business in the foundry sector with another partner. He came from Gelsenkirchen, Germany, and came up with the idea of buying stainless steel waste. That was when I started visiting the steel tool factories to buy stainless steel scrap. After a few months, I realized we were earning more with one load of stainless steel than from what we sold to the foundries in a month.
How did CRONIMET come about? Were you running it in tandem or was there a clear cut when CRONIMET was founded?
I had opened a warehouse with a company called Heinen in Nordbeckenstraße in Karlsruhe, Germany, and was doing the same business that we do today, only on a smaller scale. In 1979, after ten years, I parted ways with my partner and founded CRONIMET, which started trading on 1 January 1981.
What happened next?
We started with Karlsruhe and Düsseldorf, and in the same year we added the warehouse in Delft in the Netherlands. This was the only way we could guarantee sufficient quantities to be able to conclude contracts as a dealer. CRONIMET was intended to be a dealer in its own right and not an intermediary. The next step was to deliver to Sweden. We had to take a risk in order to be able to supply larger quantities.
What were the most important decisions that you took during these 40 years of CRONIMET?
The first big decision was to start my own business. After all, there was plenty of competition and I had to cancel my contract in advance. My former business partner thought that I would not be able to do it on my own. But I managed it: The good people came with me, and also the customers – the steel mills – bought from CRONIMET.
And what about the rest of the CRONIMET story?
After expanding our operations in Europe, it was time to make the move to the USA. That was a big decision with big investments.
Looking to the future now, what are your aspirations for CRONIMET?
For me, it would be nice if things continued like this. I am very optimistic. So much depends on the personnel, and we have an all-round good team.
You are very involved in charitable work here in the local area as far as music, sports and culture are concerned. How important is it to you to give something back, including to the people here in Karlsruhe and the surrounding area?
I could never have done what I do today in the past. Now I have the time to do it. I find it fantastic when you can contribute something to the community in Karlsruhe, whether at the University of Music or at soccer club Karlsruher SC. It gives a little more balance to one's life, to be involved in other things apart from business. It is a pity that nothing is happening at the moment. Now we can only hope that it won't be long before normality returns ...
This year is an anniversary year too ...
... yes, exactly. We hope that we will still be able to hold a celebration or two. It would be a shame to postpone the events for a year. But if we have no choice, that is what we'll do, but we will definitely celebrate when we can.